I love it when I get compliments on my blog, but I can't take credit for it.
Kristen at Ladybug's Teacher Resources is responsible for this cuteness. :-) It gets better. She is having a giveaway to celebrate 1000+ followers. Do you know what she is giving away????
Gorgeous. Blog. Goodness.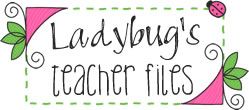 Click!
Hurry over and enter.
And while you're at it, enter mine too! (Click on the image below and leave a comment for each entry. Only comments on the giveaway entry will count!)